Welcome to the birthplace of the Charites and
the island of Symi
In Greek mythology, Symi is reputed to be the birthplace of the Charites and to take its name from the nymph Syme. Symi also transliterated Syme or Simi (Greek: Σύμη) is a Greek island and municipality. It is mountainous and includes the harbor town of Symi and its adjacent upper town Ano Symi, as well as several smaller localities, beaches, and areas of significance in history and mythology. Symi is part of the Rhodes regional unit.
For the visitors who don't stay overnight on the island is possible to to see and visit the whole island within 3-4 hours.
The routes by motorbike from the port are as follows:
Panormitis is about 30 minutes way. There is a monastery, two museums, a cafe and a tavern.
Marathounta is about 25 minutes way. There is a tavern and it's a very beautifull beach for swimming.
Toly beach is about 20 minutes way. There is a tavern and you can see a beautifull sunset.
Pedi is about 10 minutes way. There are two taverns and it's very popular the moonrise from there.
Niborios is about 7 minutes way. You can find there a beautifull and a crystal clear beach.
In Gialos there is a beautifull beach for swimming and it's just 3 minutes way by motorbike.
Geographically, Symi is part of the Dodecanese island chain, located about 41 kilometres (25 miles) north-northwest of Rhodes (and 425 km (264 mi) from Piraeus, the port of Athens), with 58.1 square kilometres (22.4 sq mi) of mountainous terrain. Its nearest land neighbors are the Datça and Bozburun peninsulas of Muğla Province in Turkey. Its interior is dotted with small valleys, and its coastline alternates between rocky cliffs and beaches, and isolated coves. Its main town, located on the northeast coast, is also named Symi and consists of the lower town around the harbour, typically referred to as Yialos, and the upper town is called Horio or Ano Symi. Other inhabited localities are Pedi, Nimborio, Marathounda and Panormitis. Panormitis is the location of the island's famous monastery which is visited by people from all over the world, and many Greeks pay homage to St Michael of Panormitis each year. The island has 2,580 inhabitants, mostly engaged in tourism, fishing, and trade. In the tourist season which lasts from Easter until Panormitis Day in early November, tourists and day-trippers increase the number of people on the island to as much as 6000.[6] In addition to its many historical sites, the island's isolated beaches, many reachable only with small boats, are popular with tourists. The Municipality of Sými includes the uninhabited offshore islets of Gialesíno, Diavátes, Kouloúndros, Marmarás, Nímos, Sesklío, and Chondrós. Its total land area is 65.754 square kilometres (25.388 sq mi).
History: In Greek mythology, Symi is reputed to be the birthplace of the Charites and to take its name from the nymph Syme (in antiquity the island was known as Aigli and Metapontis), though Pliny the Elder and some later writers claimed that the name was derived from scimmia "a monkey".[7] In Homer's Iliad the island is mentioned as the domain of King Nireus, who fought in the Trojan War on the side of the Greeks. Thucydides writes that during the Peloponnesian War there was a Battle of Syme near the island in January, 411 BC, in which an unspecified number of Spartan ships defeated a squadron of Athenian vessels. Little was known about the island until the 14th century, but archaeological evidence indicates that it was continuously inhabited, and ruins of citadels suggest that it was an important location. It was first part of the Roman Empire and then the Byzantine Empire,[8] until its conquest by the Knights of St. John in 1373.
Landmarks:
The Monastery of the Archangel Michael Panormitis is a Greek Orthodox monastery built on the southwest coast in the early 18th century. It overlooks a bay, and is still inhabited by monks.
The Kastro overlooks the main town of Symi, Ano Symi. It was built by the Knights of St. John as an expansion of a Byzantine castle on the same site, many parts of which are still visible. There are also remnants of an ancient citadel on which the two later castles were built.
The municipal clock tower which was built circa 1880.
The War memorial in the harbour consists of a monument "the Dove of Peace" in front of a bas-relief sculpture of a Trireme.
The town of Symi alone has thirteen major churches and dozens of chapels, some dating back to the Byzantine era.
The village of Nimborio has surviving ancient Pelasgian walls and a set of twelve domes remaining from workshops used by artists.
Sizzling Symi is one of the hottest Greek islands. It lies just off the Turkish coast and most visitors stay in the steep sided horseshoe bay of Gialos where summer temperatures can soar above 40°C. Even the Greeks say Symi is hot. Pastel painted neoclassical houses climb up the Gialos hillside, a reflection of the days when Symi was a thriving island made wealthy by shipbuilding and sponge diving. Today, Symi relies almost entirely on tourism; mostly day trippers from Rhodes.
Gialos port Symi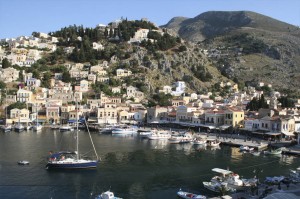 Cameras begin clicking the moment the ferries pull into the harbour at Gialos, also spelt Yialos. A semicircle of Venetian mansion houses stagger down the steep hillside and ferry hoots echo around the bay.Gialos is a favourite of day trippers with three or four big ferries arriving every day spilling passengers onto the long quayside that encloses the deep harbour. Sponges and spices are displayed in waterside stalls backed while souvenir shops and tavernas tap the passing trade – at least 25 tavernas in Gialos alone. The resort is split between the harbour of Gialos and the hillside town of Chorio. The harbour is huge, helping Symi prosper as a former trading centre for sponges and for shipbuilding. Mansion houses around the bay fell derelict as traditional trades died but have since been snapped up by foreigners and many have been tastefully restored. The amphitheatre hillside creates a colourful display but also traps the heat and prevents any sort of breeze, giving Gialos a reputation as a cauldron. There is plenty for the day visitor to see. The Nautical Museum has old maps, model ships and maritime stuff while the Folklore Museum has displays of paintings, photographs and traditional costumes. At the entrance to the harbour is the Roloi clock tower, built in 1881, while the Cathedral of Timios Prodromos, built 50 years earlier, has an impressive pebbled courtyard. South-west of Gialos is the church of Moni Agiou Michail Roukounioti built by the Knights of St John in the 14th century on the ruins of a 5th century monastery with frescoes and religious icons.
Pedi beach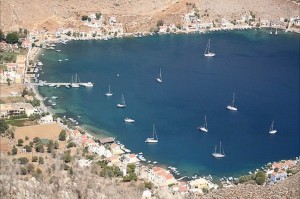 The east road out of Gialos leads to the small fishing village of Pedi which has a narrow beach of shingle and a little sand, a trio of tavernas, a hotel and a small shop. Once a thriving fishing village, very few live there now. Pedi beach has sunbeds and natural shade from a long line of tamarisks.
Just three kilometres from Gialos, Pedi is easy to reach by foot, car or boat and the daily bus from Gialos stops right on the beach. Set in a large sheltered inlet, the quay is big enough to take the boats that carry fresh water over from Rhodes, a necessity as Symi has no natural springs of note.
A steep and rocky, but well-marked track leads to a stone and shingle beach at Agios Nikolaos beach, about a 20 minute walk, or visitors can take a taxi boat that also stops at Agia Marina beach. A short distance inland is a catacomb complex known locally as Dhodheka Spilia.
Agia Marina beach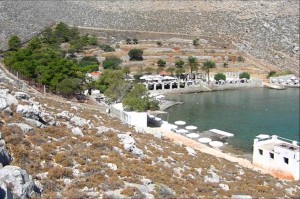 At the mouth of the Pedi inlet, on the northern side, is a tiny islet that lies offshore from the beach at Agia Marina. It can be reached by water taxi, and there are several each day from Gialos, or it is a 45 minute walk over some bare and rugged terrain. Sunbeds are laid out along a concrete slab that curves around the bay. A little natural shade is provided by a couple of trees and a taverna serves up the basics. The grey concrete, bare hills and blinding white umbrellas and loungers tend to give Agia Marina a somewhat desolate air. The main attraction is that this is one of the few beaches on Symi that has sand underfoot for some distance from the shoreline. The sand is also gently shelving and the water shallow, so it offers safe swimming for children, although there is not much to do here other than paddle in the sea or lie on a sunbed.
Agios Nikolaos beach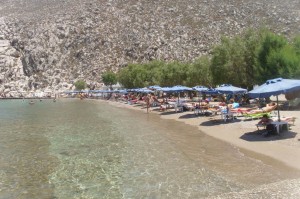 Well served by taxi boats but within walking distance of Pedi is the shingle and coarse sand beach of Agios Nikolaos, on the opposite southern side of the inlet from Agia Marina. The only beach on Symi that can claim to have some sand, Agios Nikolaos also has the advantage of tree shade from a neat line of tamarisks at the back of the beach. At the furthest end, near the chapel to Agios Nikolaos, the sea is very shallow, warm and gently shelving so it's a popular spot for families with children. A beach taverna has the basics, including toilets, and the tamarisks offer shade for goats as well as sunbedded tourists.
The beach can be reached from Pedi on foot in around 30-minutes but the route is rocky and it's a very steep drop over large rocks to get down to the beach.
A water taxi from Gialos is a better bet and the journey takes about 20-minutes.
Agios Giorgios beach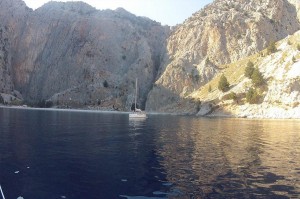 Heading south along the east coast is a narrow inlet at Dissalonias and a tiny beach at Agios Giorgios. It has no overland access and is visited only by those in their own boat or by water taxi. The beach is a narrow strip of shingle and pebble and there is no shade. There are also no facilities here so bring food and water if you intend to stay. The beach is desolate and exposed, offering no shade until mid afternoon.
Agios Giorgios beach is backed by a sheer 300 metre vertical cliff drop that was used in for location filming for the famous 1961 war movie 'The Guns of Navarone'.
Nanou beach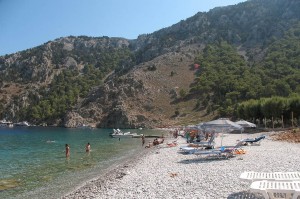 Nanou is another Symi beach that is 'blessed' with a more than usual share of goats. They often sit under the trees in the picturesque bay on the attractive but steeply sloped pebble beach. The bay is larger than most and has a sense of wide open spaces, although steep cliffs tower each side of the east-facing inlet. A steep drop into the sea means it's not particularly good for families or for weak swimmers but the shore is great for snorkelling as the water is very clear. Nanou has a small beach taverna, fenced in from the goats, toilets and a few sunbeds. The beach is a regular stop on round island boat trips but can be reached on foot. However, the overland route is long and difficult across the centre of the island and the walk takes about three hours from Gialos.
Marathounta beach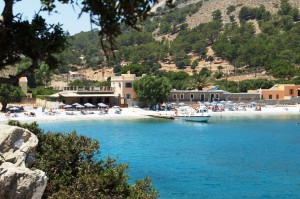 Just south of Nanou is a narrow bay of bright water with a shingle beach at Marathounta, sometimes spelt Marathounda. It is a short distance off the main road so taxis can drop here or visitors can hop on a daily water taxi. Alternative routes are on foot over the hill from the bay at Panormitis or on one of the many overland island tours with a picnic lunch. Marathounta is set in a very attractive bay with a beach of pebble and shingle. The stones are steep and the water gets deep rather quickly so children will need watching. A beach cantina is fenced off to stop the goats pestering guests at the tables and there are a few sunbeds on the stones and a small jetty for visiting boats to tie up. Just a little way south of Marathounta is an even less visited bay at Faneromi with another strip of pebble and stone but no facilities
Agios Vasilios beach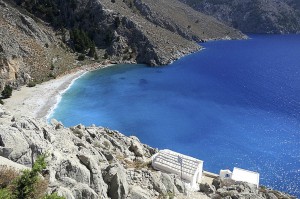 The west coast of Symi is almost entirely composed of rocky and inaccessible cliffs. There is only one small beach of any note at Agios Vasilios, about halfway down the coast.
This beautiful but remote shingle and stone beach has no facilities but a few cypress trees offer a little shade.
It lies south-east of Gialos and well off the main island road. A long walk and a scramble down a rocky gorge is required to reach it.
Water taxis do drop off here, but it is usually only visited by weekly round-island cruises as it is the furthest beach from Yialos.
Agios Vasilios is an idyllic spot but lonely and isolated, hemmed in by rocky cliffs and scree with underwater stones and shingle.
Agios Emilianos beach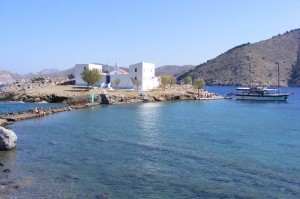 The only other beach of note on the west coast is at Agios Emilianos, a favourite spot for round-island boat trips where the attraction is the dramatic setting of the monastery on an islet linked to the shore by a small causeway. Agios Emilianos has a small, shingle beach below the whitewashed chapel. Picturesque it may be but the beach is very scruffy and stony, but a popular spot for beach barbecues. The monastery is not as attractive as the setting with whitewashed cube buildings enclosed by bare high walls. There are a few other strips of shingle to be found around the nearby bays of Skoumisa and Maroni but all have a scruffy, unkempt air.
Nimborios beach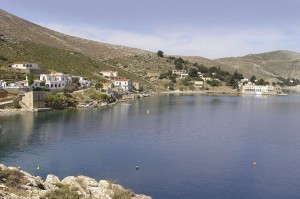 Sometimes called Nimporio, Emborio or Niborios, the beach is set in a large bay and has a small string of pebble. It's popular with visitors from Yialos as there is a good road from Yialos and it takes only about 20 minutes on foot. Visitors can get to Nimborios by following the coast road past the Gialos clock tower or by heading inland, following the steep path that rises behind the town square. There are also daily taxi boats. Nimborios is an old fishing village and there are plenty of summer apartments to let in the area, but no shops. A taverna provides sunbeds and it's a regular port of call for water taxis. Nimborios beach is only a narrow strip of stone but it's recommended for the views across the bay.
Nos beach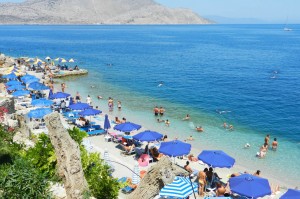 The popular sand and shingle beach at Nos is close to the harbour at Yialos and so often referred to as the town beach. It is reached by walking past the Yialos clock tower heading along the Emborios coast road. Nos is also called Paradise, probably as a sop to tourists and it's a narrow strip of shingle and sand with a double line of sunbeds. A pleasant taverna at one end overlooks the beach and rocky outcrops at the other end that add interest. The main road is just behind and above, so Nos beach is not particularly private.